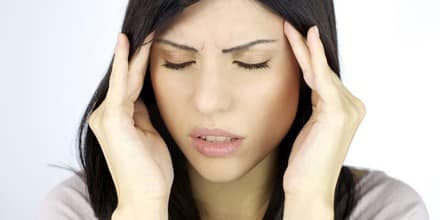 Turning To Natural Headache Relief
More often than I'd like, a patient can say to me, "I wake up with a headache every morning, but that's normal, right?" No, it's actually not normal.
Generally, headaches are a sign that something is not right. Minor headaches can be due to something as simple as hunger, dehydration or lack of sleep and can be easily remedied. Recurring and more severe headaches can be due to a variety of reasons (which is why it's important to first seek your physician's advice about your headache) and can negatively impact your quality of life. Rather than relying on medications to treat the symptoms, many people are turning to natural headache relief, including chiropractic care.
Headache Causes
Most headaches are the result of a problem that starts in the neck. Sensitive nerves and blood vessels for the head become irritated, causing pain. Muscle tightness and trigger points in our neck and upper back area can also travel up into your head and result in headaches. As mentioned above, stress, fatigue, hunger and sleep are also key contributors to headaches. Certain ingredients in food are known to be headache triggers, such as tyramine (found in alcohol and processed meats), nitrites (found in cured meats), MSG, and aspartame. Sitting in the same position all day (like working at a computer) can also provoke headaches.
Different Types of Headaches
Tension Headaches are the most common type of headache and are caused by muscular spasms or tightness in the neck and upper back. These headaches can last several hours or several days. These "knots" are typically the result of stress that has not been resolved or is ongoing.
Cervicogenic Headaches occur when pain starts in the neck and spreads to the forehead or around the eyes. Restricted range of motion as well as neck pain, arm pain or shoulder pain usually plagues people suffering from cervicogenic headaches.
Sinus Headaches are described as throbbing around the eyes or in the face. Sinus headaches are common after a cold or as a result of allergies. They tend to be worse in the morning and are frequently felt more when bending over.
Cluster Headaches are more rare and tend to strike at night or early in the morning, mostly affecting older men. The pain is usually described as non–throbbing pain on one side of the head, usually behind the eye or at the temple.
Migraine Headaches are described as causing intense pain and are often accompanied by nausea and light sensitivity. Throbbing pain is usually felt in the temple, forehead, eyes. Please note that not all severe headaches are migraines and you should check with your doctor to be properly diagnosed. 
Natural Treatments for Headaches
Want relief without relying on prescription drugs? Alternative treatments for headaches can help you feel better naturally. Chiropractic adjustments for headache can decrease the severity and frequency of some headaches. Regular chiropractic care can help decrease tension and help you avoid getting muscular contractions in the neck, head and shoulder areas that can lead to headache pain.
Prevention is also an important part of a natural headache relief plan. Remember to:
 Stay hydrated
 Stretch throughout the day
 Exercise
 Manage your stress – ensure you have a plan for relaxation and "de–stressing"
 Adjust your diet, eliminating foods that trigger headaches
 Get adjusted regularly
Chiropractic adjustments gently realign the bones in your spine, decreasing nerve irritation and inflammation which helps to reduce headache pain.
[jamiesocial]