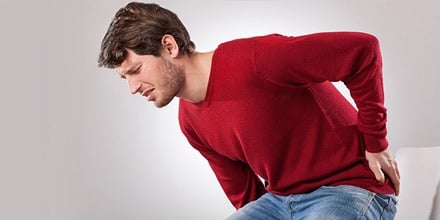 What you Need to Know about Spondylosis
Spondylosis refers to the conditions that occur as a result of spinal degeneration. Think of it as an umbrella term describing the symptoms of these conditions.
Spondylosis can describe degeneration in the following areas:
→  Neck – cervical spondylosis
→  Lower back – lumbar spondylosis
→  Middle back – thoracic spondylosis
Spondylosis is not a Clinical Diagnosis
As with many other terms to describe spinal problems, spondylosis is more of a descriptive term than it is a diagnosis. Literally it can be translated to mean that one has both pain and spine degeneration, regardless of what is causing the pain or where the degeneration is occurring. This degeneration and spinal osteoarthritis causes most symptoms of spondylosis, but there can be other causes as well.
For example:
→  A patient may have pain from facet joint osteoarthritis, causing pain during times of high activity or after extended inactivity.
→  There could be spinal stenosis, an abnormal narrowing of the spinal canal, which is creating leg pain when a patient walks.
→  The pain could be caused by degenerative disc disease, in which a degenerated disc that becomes dehydrated and loses some of its function. The degenerated disc can cause lower back pain or neck pain, and possibly leg pain or arm pain.
These examples are only a few of the many possible contributors to a patient's pain.
After arriving at a confirmed clinical diagnosis for the cause of a patient's pain (rather than just the finding that there is spondylosis, which may or may not be causing the pain), chiropractors and physicians then usually use more specific terms for the diagnosis (such as osteoarthritis, lumbar degenerative disc disease or cervical degenerative disc disease, or lumbar spinal stenosis or cervical spinal stenosis) because those terms more effectively describe what is causing the pain.
Small joints located between and behind adjacent vertebrae, called facet joints, are highlighted here in purple. They are the part of the spine that are most often affected by spinal osteoarthritis. If the cartilage between the facet joints breaks down, the bones grind against each other and cause friction and loss of mobility. Over time, the friction may lead to the development of osteophytes, or bone spurs. These bone spurs may press on surrounding spinal nerves, muscles, or ligaments, and cause pain.
Another cause of spondylosis is spinal stenosis. Spinal stenosis occurs when a spinal nerve root becomes compressed as it passes through an opening in the side of each vertebra, called a foramen.
Spondylosis may also refer to degenerative changes in the disc called degenerative disc disease. This image below shows how a spinal disc begins to thin, lose moisture, and break down. In this case, pain may result from the disc itself, or from the biomechanics of the spine.
Again, Spondylosis is not a medical diagnosis but rather a term that is used to describe the degenerative changes which can occur in your spine.
Dr. Steven Becker lives and works in West Los Angeles and frequently sees patients from the surrounding neighborhoods of Beverly Hills, Century City and Culver City. He specializes in the treatment of spinal stenosis, sciatica and spondylosis. Please feel free to call with any questions or comments (310)277-8822. Reprinted with permission.