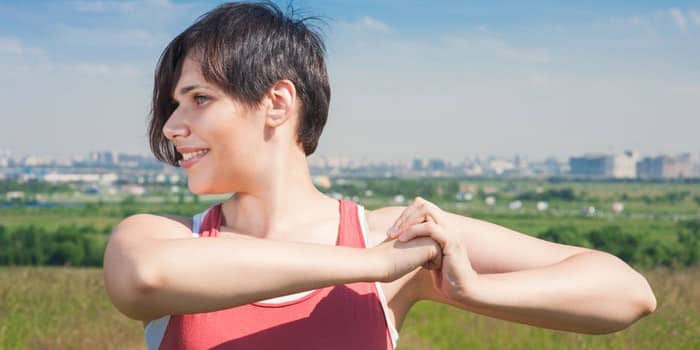 Moving Your Body Everyday is the Key to Health
Movement is a vital component and nutrient to your body, just as much as food, water, nerve supply or oxygen. Your genes and every cell in your body expect you to expend energy because your ancestors were extremely active. If they didn't stay active and functional, then they were not likely to survive – plain and simple. Your ancestors would have laughed at our concepts of exercise like running on a treadmill to burn calories. Add to this, that most people are relatively motionless for the majority of their day and in order to adapt, you need to spend more energy to maintain your health.
Invest more energy. Add activity everywhere in your life, everyday. It's Fall and the excuse of "it's too hot or too cold outside" doesn't apply right now. You can also start to park your car farther away, take the stairs and walk every chance you can. Make the time to walk, run, bike, join a softball league. Do whatever moves you. This is also a great way to meet new people and revisit something that you used to love doing.
Time for sweat. This is not a choice! There is no pill, shot, or magic bullet that can replace a little sweat equity. If you don't like it, then you can blame your ancestors who were forced to perform daily physical activities just to ensure their survival. Exercise is a supplement to your already active life, and it is not used as a treatment for being out of shape or sick. You can either be in the pain of investing in some exercise or you can be in the pain of getting weak, sick, and broken down. The choice is yours.
Ramp-up your intensity. Intensity is the key to gaining maximal health benefits and energy expenditure. It's one case where efficiency is not a good thing. More steps and more movements are what you're after. When you ramp up the intensity of your activity, you raise the setting of your thermostat (i.e., your metabolism), and your body burns calories even hours after you cool off. We atrophy without stress, so make the half-hour that you dedicate to moving your body a sweaty one.
Watch your posture. Stand up straight, pull your shoulders back, stand on both feet, suck your gut in, and don't slouch! Yes, you probably heard this a hundred times from your mom and your chiropractor, but do you listen? Maybe it's time to own the consequences of what happens if you sit there with forward head posture sniffing the computer screen all day, or sit in your car with a toxic posture for two hours straight without a break. Your spine deteriorates, your nervous system becomes stressed, your body suffers and you get sick suffering. Instead, try checking your work station: Keep your computer screen at eye level, sit with your butt to the back of your chair and use a firm chair to sit on.
Rest and rejuvenate. Stress is additive and as it mounts, you'll be in over-drive. Add to that a lack of sleep for too long, and you'll be down for the count for a few days. This is your body's way of telling you that you've pushed past your limits, and it forces you to shut down for a while. You should never wait for your body to force you to take a break. Instead, trying getting to bed before midnight and get the sleep you need. You should never have to wake up to an alarm clock. If you need an alarm to wake up, chances are that your body isn't getting enough sleep. You can also try shutting down for a few minutes during the day and taking a short nap during the day. You might be surprised how energized you feel.
Get your spine and nervous system checked regularly. Once you add more activity to your life, exercise daily with more intensity, and include functional movements, your spine and nervous system will rejoice. You will experience a whole myriad of spinal and neurological health benefits. For example, when you activate the neuroendocrine response through physical stress, there is a release of natural hormones in the body. Some side effects are increased muscle mass, bone density, better vascular health, improved immune function, as well as hundreds of others. The stimulation of tiny movement receptors in the spinal joints, called mechanoreceptors, sends positive body signals called proprioception to your brain and charges it like a battery. As a result you also have improved memory, mood, energy, balance, sex drive, and all kinds of other health bonuses. It's the reason that you feel great after exercising. From a chiropractic standpoint, your spinal discs have no blood supply of their own, so the only way that they stay healthy is by receiving oxygen and discarding toxins. This happens through the pumping action of the discs from movement and exercise. But none of these health benefits are possible without proper joint mechanics and nerve function. Subluxations, or vertebrae jarred out of their healthy position, must be removed regularly to attain overall body health and optimal function. So, get adjusted regularly, and get your friends and family checked so they can experience 100% health and function, too!
Dr. Steven Becker lives and works in WLA (West LA) and frequently sees patients from the surrounding neighborhoods of Century City, Beverly Hills and Culver City. He specializes in the treatment of headaches, neck pain and radiculopathy. Please feel free to call with any questions or comments (310) 277-8822.