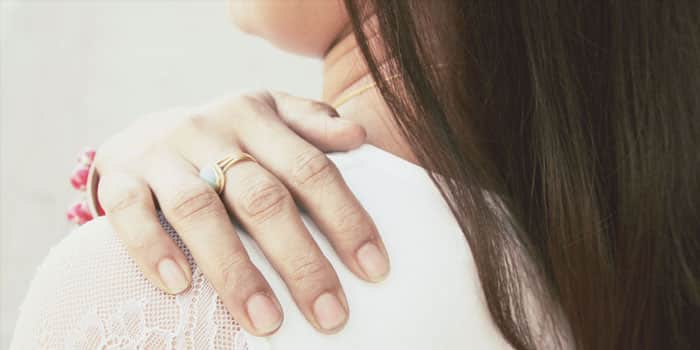 Frozen Shoulder
Do you have pain or stiffness in your shoulder and you don't know how it got there? You didn't hurt yourself and you don't have arthritis, and yet your shoulder symptoms are getting worse and worse. Chances are that you may be suffering from adhesive capsulitis or frozen shoulder. This painful inflammation of the shoulder's joint capsule (the tissues surrounding the shoulder joint) produces a dull ache in the shoulder that grows more intense with movement. The shoulder pain may start in the outer shoulder area and then spread to the upper arm. Other symptoms might include night pain, especially when lying on the affected side, severe, sharp, and catching pain in the front of the shoulder, pain down the shoulder into your arm, pain reaching into your back pocket or putting on a coat, brushing your hair or an inability to do up a bra. If you think about how often you use that arm in daily life, you'll realize what a huge problem we're talking about.
Interestingly, adhesive capsulitis or frozen shoulder is an uncommon in athletes. However, it is a common cause of shoulder pain and disability in the general population. Although it is a self limiting ailment, its rather long, restrictive and painful course forces the affected person to seek treatment. Conservative management remains the mainstay treatment of adhesive capsulitis. This includes chiropractic manipulation of the shoulder, therapeutic modalities, mobilization, exercise, soft tissue therapy, nonsteroidal anti-inflammatory drugs, and steroid injections. Manipulation under anesthesia might be considered when more conservative treatment fails.
I would add, however, that some chiropractors also believe that Frozen Shoulder Syndrome starts with a misalignment of the skull on the first cervical vertebra. This misalignment puts tension on Cranial Nerve 11 (The Spinal Accessory Nerve) which then interferes with the normal ability of the person to raise their arm. What then follows are all the classic "collection of symptoms" that one sees in Frozen Shoulder Syndrome. But by removing the interference on Cranial Nerve 11 thru a specific chiropractic manipulation, the function of the shoulder is restored. Many times the improved range of motion and decrease in pain is immediate and dramatic. I have included a link to a YouTube Video.
Dr. Steven Becker lives and works in WLA (West LA) and frequently sees patients from the surrounding neighborhoods of Beverly Hills, Century City and Culver City. He specializes in the treatment of neck pain, frozen shoulder and radiculopathy. The techniques he utilizes address both the nervous, bone or joint, and muscle system that are often the cause of the problem. Please feel free to call with any questions or comments (310)277-8822.