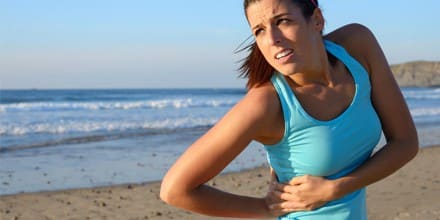 Delayed Onset Muscle Soreness Treatment
Often patients will wonder why they are sore after doing something that is great for them such as exercise or stretching.
Usually this is because of Delayed Onset Muscle Soreness (DOMS). Delayed onset muscle soreness (DOMS) describes a phenomenon of muscle pain, muscle soreness or muscle stiffness that occurs in the day or two after exercise. This muscle soreness is most frequently felt when you begin a new exercise program, change your exercise routine, or dramatically increase the duration or intensity of your exercise routine.
The soreness is perceived as a dull, aching pain in the affected muscle, often combined with tenderness and stiffness. The pain is typically felt only when the muscle is stretched, contracted or put under pressure, not when it is at rest. This tenderness, a characteristic symptom of DOMS, is also referred to as "muscular mechanical hyperalgesia". Although there is variance among exercises and individuals, the soreness usually increases in intensity in the first 24 hours after exercise. It then peaks from 24 to 72 hours and begins to subside and disappear up to seven days after exercise.
What Is the Best Treatment for Muscle Soreness After Exercise?
There is no one simple way to treat delayed onset muscle soreness. In fact, there has been an ongoing debate about both the cause and treatment of DOMS. In the past, gentle stretching was one of the recommended ways to reduce exercise related muscle soreness, but one study by Australian researchers published in 2007 found that stretching is not effective in avoiding muscle soreness. So does anything work to reduce delayed onset muscle soreness? Nothing is proven 100 percent effective, and although some people have found the following advice helpful, it's best to try a few things to see what works for you. Ultimately, best advice for treating DOMS is to prevent it in the first place.
The soreness disappears in about 72 hours after appearing. If treatment is desired, any measure that increases blood flow to the muscle, such as low-intensity work and continued exercise may temporarily suppress the soreness. Exercise increases pain thresholds and pain tolerance. This effect, called exercise-induced analgesia, is known to occur in endurance training (running, cycling, swimming), but little is known about whether it also occurs in resistance training. There are claims in the literature that exercising sore muscles appears to be the best way to reduce or eliminate the soreness, but this has not yet been systematically investigated. Other things to try may be massages, hot baths or a sauna. Immersion in cool or icy water, an occasionally recommended remedy, was found to be ineffective in alleviating DOMS in one 2011 study, but effective in another.
How about DOMS treatments at the Office?
We often let patients know that after the stretches they may receive in the clinic that there may also be a period of soreness.  The good news is that you only go through this muscle soreness for a short time and the positive effects continue to progress.  This means that it can have a short term pain for what can be a longer term gain and its nothing to be worried about. However, if soreness last for more than 72 hours, it may be that your treatment needs to be changed. So please speak with me about it and we can discuss your health care needs.
[jamiesocial]