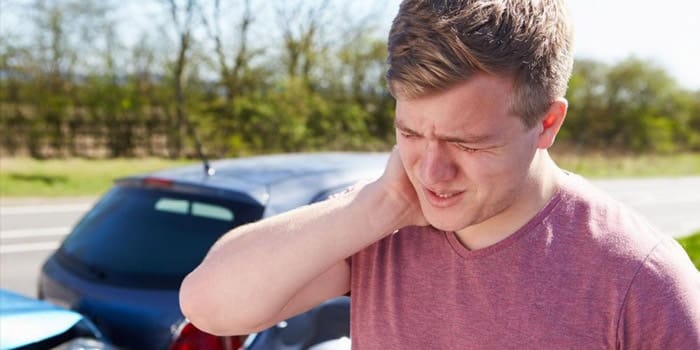 What is Whiplash

Whiplash is a term that describes injury to the neck that occurs as a result of a motor vehicle or car accident. The most common type of car accident is the rear impact, and most typically, the occupant in the vehicle that gets "rear-ended" (hit from behind) is at the greatest risk of injury, including whiplash.
Acute Neck Pain
Most episodes of acute neck pain are due to a muscle strain or other soft tissue sprain (ligaments, tendons). This type of injury can be caused by a sudden force (such as whiplash) resulting from a car accident, or from straining the neck (such as a stiff neck from sleeping in the wrong position, or a strain from carrying a heavy suitcase).
Most minor injuries to the ligaments, tendons and muscles in the neck usually heal with time (a couple of days or weeks) because these soft tissues have a good blood supply to bring the necessary nutrients and proteins for healing to take place. Nonsurgical care, such as ice and/or heat, medications, chiropractic or osteopathic manipulations can help alleviate the painful condition while it is healing.
For patients with neck pain that lasts longer than two weeks to three months, or with predominantly arm pain, numbness or tingling, there is often a specific anatomic abnormality causing the symptoms.
What Is Now Known About Whiplash
Until recently, the reason for the extent of whiplash injuries was poorly understood. In addition, due to the legal and insurance issues, the veracity of complaints of neck pain and other symptoms by people who suffer from whiplash is commonly viewed as suspect.
However, recent research has helped clarify why occupants struck from behind experience more extensive whiplash injuries than those in other types of crashes. This new information is important for the physician treating whiplash pain, as it impacts the physician's case management strategy.
Sources of Whiplash Pain
When the cervical spine (neck) is subject to whiplash, there is usually a combination of factors that contribute to whiplash pain in the neck and back, and ultimately need to be addressed individually by a chiropractor.
The doctor of chiropractic maintains a "holistic" view of the patient's whiplash pain, specifically focusing on one or more of the following:
Joint dysfunction

Muscle dysfunction

Faulty movement patterns

Disc derangement.
This article explains how chiropractors approach treating neck pain, back pain, and/or other whiplash symptoms, and help patients prevent chronic whiplash pain.
Whiplash Pain Management for Joint Dysfunction
Joint dysfunction from whiplash occurs when one of the joints in the spine or limbs loses its normal joint play (resiliency and shock absorption). After a thorough evaluation, joint dysfunction is detected through motion palpation, a chiropractic technique in which the chiropractor gently moves the joint in different directions and assesses its joint play. When a joint develops dysfunction, its normal range of movement may be affected and it can become painful.
Additionally, joint dysfunction can lead to muscle imbalance and pain, and a vicious cycle:
The loss of joint play can cause abnormal signals to the nervous system (there are an abundance of nerve receptors in the joint)

The muscles related to that joint can subsequently become tense or, conversely, underactive

The resulting muscle imbalance can place increased stress on the joint, aggravating the joint dysfunction that already exists.

Disc derangement.
Muscle Dysfunction from Whiplash Injuries
When joint dysfunction develops, muscles are affected. Some muscles respond by becoming tense and overactive, while others respond by becoming inhibited and underactive. In either case, these muscles can develop trigger points that may necessitate chiropractic treatment involving muscle relaxation or stimulation.
Trigger points are areas of congestion within the muscle where toxins accumulate. These toxins can irritate the nerve endings within the muscle and produce pain. This whiplash pain can occur in the muscle itself or can be referred pain (perceived in other areas of the body).
The muscle can also send abnormal neurological signals into the nervous system, which can then cause disruption of the ability of the nervous system to properly regulate muscles in other parts of the body, leading to the development of faulty movement patterns.
Faulty Movement Patterns and Whiplash Pain
It is thought that the intense barrage of pain signals from a whiplash injury to the cervical spine can change the way the nervous system controls the coordinated function of muscles. The disruption of coordinated, stable movement is known as faulty movement patterns. Faulty movement patterns cause increased strain in the muscles and joints, leading to neck pain and back pain. They can involve the neck itself or can arise from dysfunction in other areas of the body such as the foot or pelvis. Instability is also considered part of faulty movement patterns. There are 2 types of instability that can occur in whiplash:
Passive instability—the ligaments of the neck are loosened, making it more susceptible to whiplash pain

Dynamic instability—the nervous system disruption causes a disturbance in the body's natural muscular response to common, everyday forces.
As a result of instability, even mild, innocuous activities can be difficult to perform as they often exacerbate the whiplash pain.
Whiplash Pain from a Herniated Disc
The force of whiplash can cause injury to the discs between the vertebrae, and small tears can develop. If the gelatinous middle of the disc seeps out, it can irritate the nerve endings in this area. This is known as disc derangement. Occasionally, the gel can seep all the way out and press on a nerve root exiting the spinal cord behind the disc, known as disc herniation.
A herniated disc may involve whiplash pain in the neck as well as sharp, shooting pain down the arm and possibly neurological symptoms such as numbness, tingling and muscle weakness.
Related Whiplash Symptoms/Conditions
Whiplash injuries can be quite complex and may include a variety of related problems, such as:
Joint dysfunction. As a result of the whiplash, one of the joints in the spine or limbs may lose its normal resiliency and shock absorption (referred to as the joint play), possibly leading to restricted range of movement and pain.

Disc herniation. Again, a whiplash accident may injure the discs between the vertebrae, lead to small tears and cause the inner core of the disc to extrude through its outer core. If the disc's inner core comes in contact with and irritates a nearby spinal nerve root, a herniated disc occurs, with symptoms possibly including sharp, shooting pain down the arm and even neurological symptoms like numbness, tingling and muscle weakness.

Faulty movement patterns. It is believed that the nervous system may change the way in which it controls the coordinated function of muscles as a result of a barrage of intense pain signals from the whiplash injury.

Chronic pain. While often resulting in minor muscle sprains and strains that heal with time, more severe whiplash injuries may produce neck pain and other symptoms that are persistent and long-lasting (chronic).

Cognitive and higher center dysfunction. In some instances, whiplash may affect the patient's mental functioning, possibly leading to difficulties concentrating, as just one example.
Cervical Spine Reactions to a Whiplash Accident
There is an inherent stabilization response in the cervical spine that helps protect it from potential whiplash injury:
The nervous system detects the presence of the impact

The muscles of the cervical spine, under the direction of the nervous system, contract quickly to try to minimize the affects of the impact on the ligaments and discs.
If this stabilization response is working efficiently following the whiplash accident, there is a greater likelihood of protection and less potential for whiplash injury. But if the response is inefficient, an injury is more likely, with various types of whiplash pain possibly resulting and whiplash treatment potentially necessary. There are several factors that affect the efficiency of the stabilization response to whiplash injury, including:
Posture at impact

Overall physical condition

Awareness of coming impact

Gender
Clearly, some of these stabilization responses to whiplash are within the patient's capacity to control, while others are not.
Overall Physical Condition and Whiplash Injuries
The better conditioned the body is in general, the more efficient the stabilization response will be. This particularly relates to the condition of the nervous system, as a well-functioning nervous system is essential to a proper stabilization response.
Awareness of Coming Impact on Whiplash Injury Severity
Perhaps the most important factor that affects the efficacy of the stabilization response in relation to whiplash injuries is awareness of the impending impact.
Scenario 1: Aware of impending impact. This person is able to automatically prepare the stabilization system to respond quickly and efficiently.
Scenario 2: Unaware of the impending impact. This person cannot prepare the stabilization system, thus slowing the response and decreasing its efficiency. This person is likely to sustain greater whiplash injury than is the person who is aware. This may help explain the findings of some studies that have shown a passenger in a struck vehicle is likely to sustain greater whiplash injury than the driver. The driver is more likely to see the vehicle coming in the rear view mirror.
Whiplash Injuries and Gender
Women in general are more frequently and more seriously injured by whiplash than men due to the differences in muscular bulk and the female's smaller bony structures. These factors result in less protection of the cervical spine to the abnormal forces such as those that occur in a whiplash-type of injury.
Chiropractic Treatment for Whiplash
The appropriate chiropractic treatment is unique to each whiplash injury and is directed at the primary dysfunctions detected during the chiropractic exam. However, chiropractors commonly employ different chiropractic treatments for whiplash, often including:
Manipulation

Muscle relaxation and/or stimulation

Various exercises

Ergonomic and lifestyle changes.
This article explains when, why and how chiropractors may employ these whiplash treatments for neck pain, shoulder pain, back pain and other related symptoms.
Chiropractic Manipulation for Whiplash
The primary whiplash treatment for joint dysfunction, spinal manipulation involves the chiropractor gently moving the involved joint into the direction in which it is restricted.
Also known as a chiropractic adjustment, spinal manipulation may involve the application of a short thrust in that direction. In many cases, instead of a thrust, a slow mobilizing movement is used by the chiropractor.
Muscle Relaxation or Stimulation as Whiplash Treatments
The chiropractor's primary whiplash treatment for related muscle dysfunction, muscle relaxation and/or stimulation consists of gentle stretches to the muscle that has excessive tension or repeated contractions of the muscle that is inhibited. If the muscle is very tight, a more vigorous stretch may be applied by the chiropractor. Gentle finger pressure techniques may be applied to trigger points to relieve the pain associated with the tight muscles.
Chiropractic Advice on Ergonomic and Lifestyle Changes
These whiplash treatment suggestions stress improvements for performing everyday activities with minimal strain to the body. The chiropractic advice addresses factors in an individual's work, home or recreational activities that perpetuate the dysfunctions that result from the whiplash accident.
The whiplash treatment plan developed by the chiropractor for each specific problem may include one or more of these approaches and may involve others as well. In addition to his or her whiplash treatment plan, the doctor of chiropractic might give a referral to another health professional, such as a medical specialist, if it is deemed appropriate.
Preventing Chronic Pain from Whiplash
After sustaining whiplash injuries, it is fairly common for people to suffer from chronic neck pain. A chiropractor can detect certain factors in a patient's history and chiropractic exam to better determine patients who may be more susceptible to chronic pain from a whiplash injury. This process will help the doctor of chiropractic identify when aggressive preventative measures should be taken for patients who may be at a greater risk of developing chronic neck pain from whiplash injuries.
Chiropractic Treatment Approach to Whiplash Injuries
The chiropractor's general approach to managing the patient's chiropractic care is critical to the success of preventing chronic pain from whiplash injuries.
In the early stages of management, it is very important for the chiropractor to rapidly reduce the patient's neck pain, back pain and/or other symptoms.

Soon after, the chiropractor's whiplash treatment must be shifted toward restoration of the patient's function. This means helping the patient return to work, home and recreational activities as soon as possible after sustaining the whiplash injuries. This process may involve a gradual transition to these activities, even if the patient is not sure that he or she can engage in them fully.

Restoring confidence after a whiplash injury on the part of the patient in his or her ability to get back to normal activity levels is also important for rehabilitation.

Exercise, both for the purpose of correcting faulty movement patterns and instability, and for general fitness, is important in this effort to treat whiplash injuries.
Teaching the patient the nature of chronic pain (that "hurt does not necessarily mean harm") and placing focus on those activities the patient can do, rather than those he or she cannot, are major parts of chronic pain and disability prevention after whiplash injuries. Chiropractors integrate the strategies explained above to develop the most effective approach for recovering from a whiplash injury and preventing future episodes of back pain.
Dr. Steven Becker is located on the corner of Beverly Drive & Pico Blvd. and is affiliated with Cedars–Sinai Medical Center and has sub–specialties in Chiropractic Neurology and Orthopedics. Dr. Becker lives and works in Los Angeles and frequently sees patients from the surrounding neighborhoods in West Los Angeles (West LA) including Century City, Beverly Hills and Culver City. He specializes in treating whiplash cases as well as cases of headaches, neck pain, sciatica, coccydynia and spinal stenosis. Please feel free to call with any questions or comments (310)277–8822.
Reprinted with permission.