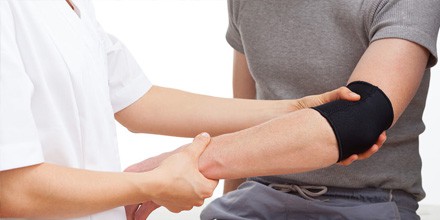 What Causes Tennis Elbow?
Tennis does, in fact, cause tennis elbow – but so does a trauma, like a direct blow to the elbow or any activity that causes you to over use those muscles.
Tennis elbow (or lateral epicondylitis) is a painful condition that involves the bony knob (epicondyle) on the outside of the elbow where the tendons attach the muscles to the bones. The job of these muscles is to stabilize and extend the wrist and the fingers.
With tennis elbow, there is usually some trauma to the tendon's attachment to the bone, often involving tiny tears. Such injuries can lead to pain when you use these muscles to lift or grip. While Tennis is sometimes involved, the problem can occur with many types of activities including overuse. Activities that repeatedly place stress on the tendon/bone attachment can cause problems, whether they're related to work or play. Holding too large a racquet, holding objects with the palm faced away from the body or having jobs that stress the elbow—such as assembly-line work, office work, and other jobs that cause you to repeat the same activity over and over can all contribute to this condition. Trauma or a direct blow to the elbow may cause also swelling of the tendon and then later, a breakdown of the tendon. A sudden forceful activity can also injure the tendon.
Signs and symptoms
Pain located over the outside bony area of the elbow is often the reason people seek medical attention. This pain can be produced by any activity that stresses the tendon like gripping or lifting improperly. Sometimes the pain can be so severe that any elbow motion is painful.
Conservative treatment (non-surgical)
Chiropractic treatment may include special techniques to reduce pain and promote healing, stretching, and then strengthening exercises and instruction on the proper ways to use your elbow at work and play. Chiropractic manipulation may also be helpful to restore normal alignment and movement at the elbow and possibly at the wrist. More aggressive treatment might include injections into the muscle, tendon and possibly the joint. Surgery is considered only if you have not had a good result from more conservative treatment and your symptoms have lasted more than six to twelve months.
[jamiesocial]