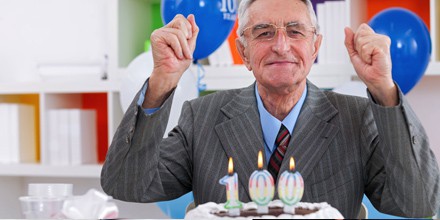 9 Rules To Live To Be 100
By now, some of you may have read or heard of Dan Buettner, a writer for National Geographic, who assembled a team of researchers to seek out "hotspots of human health and vitality," which he calls Blue Zones, to figure out what they do that helps them live so long. In these Blue Zones, he found a population of people who live to be 100 at rates 10 times greater than in the United States. Then he took scientists to each location to identify the lifestyle characteristics that may explain longevity. Here are the 9 common denominators that people that live to be 100 share:
Move (find ways to move, make moving unavoidable)
Plan Of Life (know your purpose)
Down Shift (work less, slow down, rest)
80% Rule (stop eating when you're 80% full)
Plant-Power (more veggies, less processed foods)
Red Wine (consistency and moderation)
Belong (create a healthy social network)
Beliefs (spiritual or religious participation)
Family (make it a priority)
For the first time in human history, our children are projected to not outlive their parents. As a nation we're getting fatter every year. Chronic disease is on the rise. Is this because of bad luck or a massive genetic shift? I don't think so. We are products of our environment. Every day, hundreds of marketing messages rinse over our psyches–many of them encouraging us to eat things that aren't good for us. We have engineered physical activity out of our lives and networked electronics are replacing face-to-face human contact. We live in environments of sickness. The key to getting that extra 10 years we're missing might be to follow the lessons from the world's longest-lived people and our ancestors, and learn to create environments of health and live to be 100.