West Los Angeles Chiropractor
A leading chiropractor in West Los Angeles and Beverly Hills for the past 23 years, Dr. Steven Becker specializes in both Chiropractic Neurology and Chiropractic Orthopedics.
Dr. Steven Becker
Find out what leading West Los Angeles and Beverly Hills chiropractor Dr. Steven Becker's patients are saying about their chiropractic experience & how they benefited from his 23 years of experience.
Chiropractic Reviews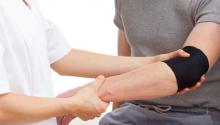 What Causes Tennis Elbow? Tennis does, in fact, cause tennis elbow – but so does a trauma, like a direct blow to the elbow or [...]Read more
Free Chiropractic Consultation
Dr. Steven Becker provides specialized chiropractic care in Beverly Hills and West LA and can help you understand where your symptoms are coming from and what it will take to improve. Contact us today for a FREE consult.
Chiropractic Treatment
I believe that your recovery, and ultimately my success, lies in how little treatment you need. - not how much.
- Dr. Steven Becker