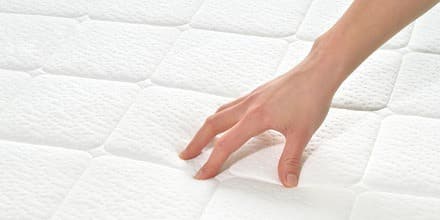 Tips for Buying a New Mattress That Is Right For You
The hard part about buying a mattress is that there is no scientific way to predict whether or not a certain mattress will be right for you.
If you read no further than this, make sure to take my advice given in tip #10: lie on the mattress in the store for 15 minutes. You'll feel silly, but it will be worth it.
Though you can't guarantee you will end up with the perfect mattress, use these 12 tips to make an educated choice:
1. Research online before going shopping.
2. Talk to your doctor. If you have a health condition, talk to your doctor or physical therapist about what he or she recommends. Keep in mind that doctors are not sleep experts, but they know your medical condition and symptoms and will probably have some good advice from that point of view.
3. Know that firm mattresses aren't always better for your back. Think twice before buying a hard or firm mattress, as research has shown that the best mattress for low back pain is a medium firm mattress rather than a firm mattress. There is a difference between firm support and firm feel. You want firm support with a comfortable feel. Comfort will be determined by your personal preference.
4. Pillow tops aren't for everyone. Very light-weight people don't need big thick pillow top mattresses because they don't weigh enough to compress the foam to even touch the underlying coils/support system. On the flip side, larger/heavier people tend to feel more comfortable with a little extra cushion between them and the coils.
5. Adjustable beds might be a great option. If you find you are more comfortable sitting in a recliner than lying down, you might want to try an adjustable bed. They allow you to elevate your head and knees slightly to relieve pressure on the lower back. You can also create the same effect using pillows.
6. Ask about money-back guarantees. If you think you'll like a memory foam mattress but aren't quite sure, try the Tempurpedic brand as they typically offer a 30-day money-back guarantee. If you don't like it within the first 30 days, you're probably not going to change your mind, so send it back.
7. Ask about comfort guarantees before you buy. Many states still allow retailers to give what's called a comfort guarantee. Ask for it before you buy, and be sure you understand the details, like whether you're required to pay shipping, if it includes a money-back guarantee or exchange, if you must return the mattress within a certain time frame, etc.
8. Check the warranty. A good mattress will have a minimum of a 10 year full replacement or non-prorated warranty.
9. Protect your investment. Always get some kind of waterproof mattress protector. Stains will void your warranty.
10. Take the mattress for a test drive. When shopping for a mattress, try to lie on the mattress in the store for at least 10 to 15 minutes. Don't feel self -conscious or let the salesperson hurry you along. It's a big purchase, and if you don't try it for at least 10 minutes you're not going to get a real feel for it.
11. Check out all the options and variations. Give yourself a comfort test if the salesperson doesn't offer you one. Ask to try a firm, a plush, and a pillow top in the same brand quality and price point. Lay on each one for 10-15 minutes. When you find the most comfortable type of mattress, ask to see more of that kind.
12. Shop at a store that specializes in mattresses. The salespeople at a mattress specialty store usually have more training on the whole subject of sleep. Try to find a store that carries several major brands.
Remember, it's your mattress, your back, and your money, so it's worth the time to research it and get the best mattress possible. Keep an eye out for specials and sales, and always try to negotiate delivery charges.
[jamiesocial]