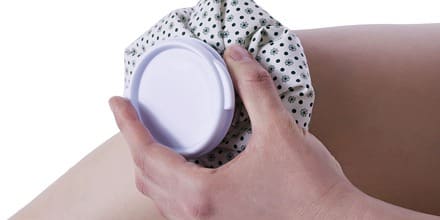 Heat or Ice For Injury: How To Properly Care For Your Injury
Do I put ice or heat on it? This is definitely one of the most common questions I've gotten in my 23 years of practice. Someone hurts their back lifting or playing sports, and though the body part and/or mechanism of injury may be different, the reaction is usually the same. They are aware that they should do something, but what should it be? Heat or ice for injury?
It's important to know that the body responds to a muscle injury by producing an inflammatory response. The inflammation I'm discussing has to do with the reaction by the muscle to injury and the body's automatic response to try to heal and correct itself. Basically, the body is responding by directing cells to the injured area that help in the healing process. This results in congestion and swelling, which in turn increases pressure and pain.
Now the real debate begins, when do you ice a soft tissue (muscle) injury. Here's a good rule of thumb I tell people to follow: In most cases when applying ice to an injury, the worst outcome you can have is nothing. Heat, on the other hand, if started too soon, can cause additional swelling, leading to greater injury. Basically, ice and cold affects the size of the blood vessels that are automatically bringing blood to the injury site to help in repairing the injured tissue. Ice causes constriction (narrowing) of these vessels by controlling the amount of fluid brought into the area where the ice is applied. Apply ice for 10–15 minutes at a time at an interval of every couple of hours until you can get to a health professional for more specific advice about your particular injury.
[jamiesocial]