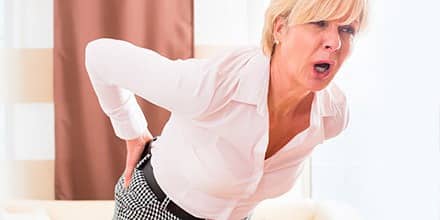 What Is Coccydynia
Coccydynia is pain that emanates from the area of the tailbone, or coccyx. The coccyx is located at the very bottom of the spine, and usually consists of four or five vertebral segments or bones that is in turn, connected to your sacrum by a ligament. The bone serves a function for humans as a connection for muscles of the pelvic region. More significantly and most overlooked, it also serves as a tethering point for your spinal cord and performs a weight-bearing function while a person is seated. As such, pain that occurs within the coccyx can be relatively severe and persistent, and is most often a result of a bad fall.
No one age group, gender, or ethnic group is more susceptible to this condition, but people who are overweight may be three times more likely to suffer from coccygeal pain. Coccydynia is classified in one of three ways:
Traumatic
Falling on the tailbone, giving birth, or riding a bicycle or a horse can place stress on the coccyx.
Non-traumatic
A benign or malignant tumor on or near the coccyx can generate constant or occasional pain.
Idiopathic
This occurs when the cause of the coccydynia is unknown.
Coccydynia Treatment Options
Given that the primary type of coccydynia is traumatic, treatment may include changing sitting positions, which includes using a special pillow to sit on, specialized physical therapy or chiropractic care.
If your pain is persistent, you would need X-rays and MRIs to see the position that the coccyx is in. When someone falls on their buttocks and jam their tailbone forward, it may be detected with these imaging options. But what if a tailbone is jammed in the correct position? Just because the tailbone is not displaced does not mean that it won't cause pain.
The most important thing to understand is that loss of motion is what generally causes coccyx pain. This motion cannot be detected on static x-ray and MRI images. When a tailbone becomes jammed, just like when you jam your finger, the loss of motion is more important to address than the position it is jammed in. Every time you sit, stand, move, your tailbone needs to be able to freely flex and extend to accommodate different body positions and protect itself.
As a chiropractor, I have treated numerous cases successfully with only one or two treatments. From a chiropractic perspective, treatment almost certainly requires some form of internal manipulation of the coccyx to return it to it's normal position and normal motion. If you have been told that there is nothing wrong with your tailbone but still feel the pain, don't give up. Once the motion is restored many people find relief without the use of an invasive surgery. Dr. Steven Becker is trained extensively in detecting and correcting tailbone Injuries. If you fall into this misdiagnosed category, please contact our office in West Los Angeles to find out more about your treatment options.
[jamiesocial]